| | |
| --- | --- |
| | Key Features |
Report Printer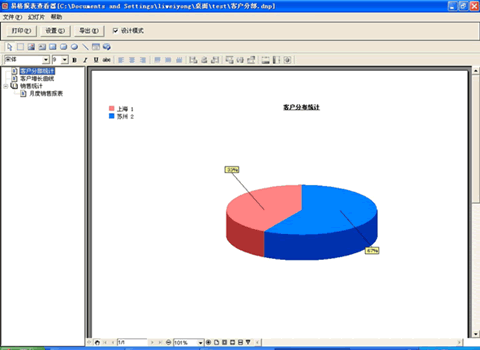 Report Printer is a separate software, you can open the report design files (*. dnr), report data files (*. dnp), book files (*. bok), xml files (*. xml). Opens again print, export, and can be like a PowerPoint presentation as a slide show mode.
Select 'design patterns' can create or edit after an open book file (*. bok), design patterns, those who object, like using the same report designer;
Book file (*. bok) can be understood as more than one file consisting of statements or statements of Collection, as a bound, like a book. Directory on the left column shows all the book's paper, each sheet of paper can be a report design file, report data file or files of their own design, choose the 'design mode', you can right-click on the menu bar to add or remove the paper, choose paper attributes the current paper can be designated as an existing statements;
Report data files (*. dnp) is derived from the report file generated when you select the format;
Report design file (*. dnr) can not be designed in the Printer, it is necessary to design a database to connect the text file in order to properly display properly. Please use the after-sales service system to design the 'Report Designer'.